Was over the moon to do my first Girl's room!!  My client's daughter wanted a little girl's princess room and of course purple and pink were the perfect choices.  Whew can't believe it is finally done.  What a crazy experience, I am so proud of the hard work put into it but the real reward was how Olivia's face lit up when she saw it for the first time.
Here is the before picture…. now that's pink!!
And the After…
So many people thought the walls were wallpaper but it is actually a stencil-
that crazy wall took me 15 hours to complete.  Half way through I thought what the heck have I gotten myself into.  I have stenciled before but this was a job all to itself!  Needless to say, I was very glad it was over!!
The stencil is from Royal Design Studio called Elegancia Allover Stencil.
The wall color is Sherwin Williams Dimintive Pink (SW 6588) and the stencil cream from Royal Design Studio is three parts Pearl Oyster, one part Frosted Lilac.
Here are some additional projects I did for the room….
I found some perfect side tables to complete the princess room decor at a little place called 1905 Emporium in Richmond, IL here is the before shot………..
Here it is after….
The paint is Annie Sloan Old White, and I used part of the stencil i used on the wall.  The stencil cream was the same I used on the wall – three parts Pearl Oyster to one part Frosted Lilac.
Antique bench before:
Antique bench after:
Chair before:
Chair after:
Closet before:
Closet after:
The room was a lot of work but soooooooooo much fun!!
Here are a few more  projects that I am very proud of:
Linking to: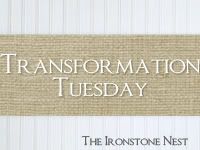 Pin It
Related posts: